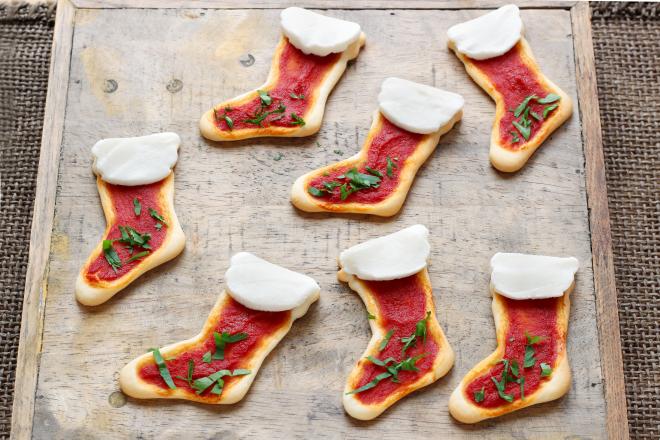 Ingredients (18 pieces)
1 thin pizza dough already spread
30 cl of tomato coulis
2 balls of mozzarella
Parsley
Salt
Buy the ingredients New!
Equipment
Traditional oven
Cooling grid
Hob / Baking sheet
Preparation
Read the recipe
STEP 1 :
Pour the coulis into a pan and sauté over medium heat for about 10 minutes, to thicken the grout.
Cut the mozzarella ball into thin slices and leave to disgorge on a plate.
Detail the Santa Claus boots in the pizza dough and place them on a baking sheet.
2ND STEP :
Add a large teaspoon of coulis on each boot and spread out leaving a free edge.
Bake for 8 to 10 minutes in a preheated oven at 180 ° C. The boots should be well gilded.
Let cool on a rack.
STEP 3:
Cut each slice of mozza into two top of boots using the top of the cookie cutter.
Put them on the boots.
Garnish with flat parsley cut into thin strips and serve.