VERMINE OF SALMON AND MASCARPONE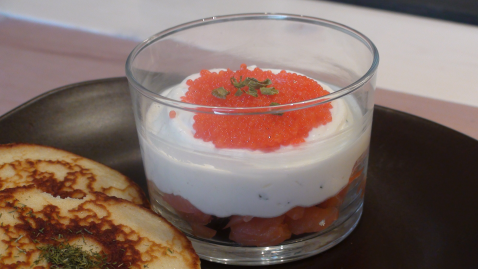 A light appetizer recipe for an aperitif in small verrines or as an appetizer in larger verrines.
Very easy Cheap 20 min 3 min 60 min

Ingredients
200g of mascarpone
200g of cottage cheese 20%
4 slices of smoked salmon
Toast bread or blinis
10 cl of liquid cream
100g of salmon egg or lump
1 lemon
2 tbsp chopped chives
salt
pepper

Preparation :

Read the recipe
STEP 1 :
Mix the mascarpone with the cottage cheese and liquid cream. Whisk to obtain a smooth mixture.
2ND STEP :
Add the juice of half a lemon, the chives, salt, pepper and mix.
STEP 3:
Cut the salmon into strips. Arrange the salmon in the bottom of the verrines and sprinkle with the remaining lemon.
STEP 4:
Add the mixture to the salmon.
STEP 5:
Decorate with salmon or lumpfish eggs or salmon slices.
STEP 6:
Serve chilled with bread or toasted blinis with a toast or grill.
Enjoy your meal !